Customers have the opportunity to submit their complaints directly on the internet to be entered in several steps via an intuitively guided mask.
Vor der Eingabe der Beschwerde muss der Kunde den Guarantee conditions agree
The specification of Anonymous complaintsis also possible.
The input mask can be operated intuitively and is Assistants realized
The masks offer the following input and Selection options:
Advance date, time
Category
Subcategory
With a vehicle-related complaint the customer must select the connection he or she is using via an integrated timetable enquiry. To do this, the customer enters at least the following data:
Datum der Fahrt
Abfahrtzeit / Ankunftzeit
Starthaltestelle
Zielhaltestelle
Umstiegspunkt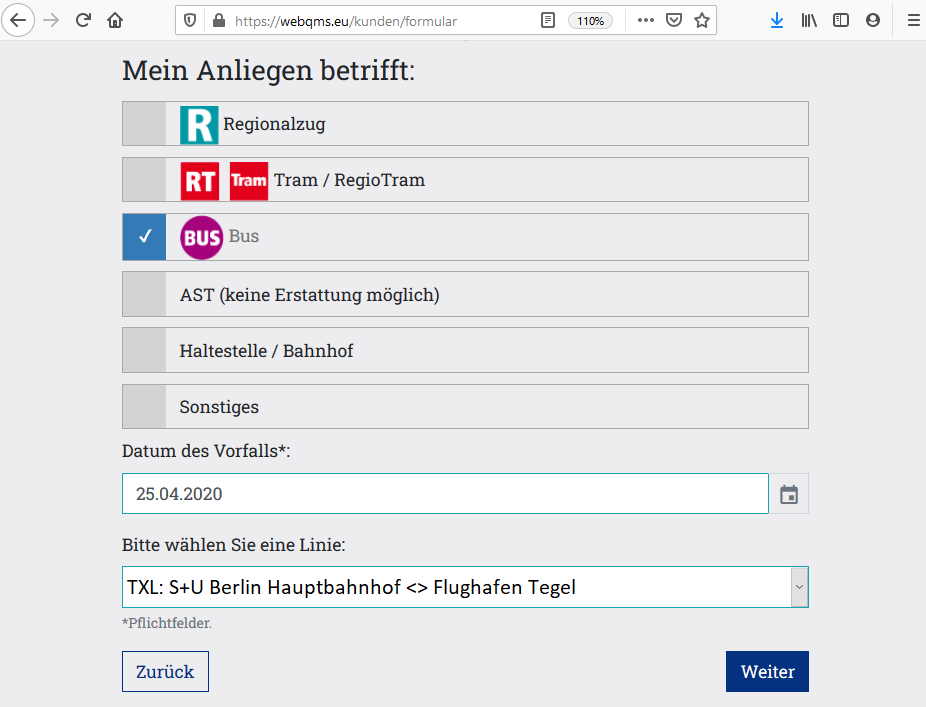 ⇓
⇓
Before the final sending of the complaint, the Control all entered data are shown once again in an overview. The customer changes any incorrect entries and then confirms the correctness of the data.
The customer gets the opportunity to Nachweis with the complaint number. At the same time an automatic confirmation of receipt of the complaint will be sent by email.
Further processing:
The system checks whether this customer already exists in the database. If so, no new Customer base can be created. The case is assigned to the existing customer data record.
After entry and storage, a system-side Check for doubling of reimbursement cases, so that multiple payouts are prevented.
Customer entries are automatically sent to the Originator or processing employee is forwarded.
The complaint categories can be edited by back office.